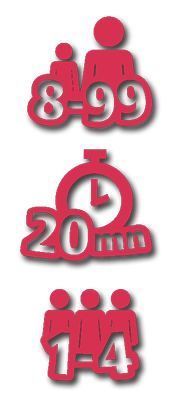 A ghost mouse equips itself with a top to save the world from the nightmarish monster and its allies. It's up to you to take this adventure full of twists and magic for a spin!
Author : Wlad Watine – Illustrators : Jules Dubost et Yann Valeani
Key Points
A unique dexterity adventure experience
Adventure mode immerses you in an illustrated, 32-page story
These tops are designed to spin vigorously for more than a minute
Cooperative or Solo modes
How to Play ?
SPINBOARD – Ghost Adventure is a cooperative game, which you play while standing around a table. Players take turns completing missions together. Each mission involves a different route that you must complete with a top, traversing several boards. The boards represent 8 worlds and provide numerous targets to reach.
At the beginning of each mission, the players jointly identify the targets, and divvy up the boards indicated for that mission. The first player launches the top on the stone circle of the first board, and moves the top by tilting the board to direct it to its target. Once it has reached its target, the player guides the top toward the exit, where it can pass from its current board to the board held by the next player.
This dynamic inter-player relay continues until the mission is complete, but beware the traps! Make clever use of the different action buttons to help you in your mission: Jump to a higher level, teleport to another world, or refill the top's relaunch potions.
Vidéo
Content :
8 worlds in relief
1 comic book
1 quest book
2 tops and 1 launcher
1 training area
4 relaunch potions